WHERE DO YOU GET SUCH GREAT PEOPLE?
This is the number one comment we hear. We get hundreds of letters, emails, and phone calls each year from customers who rave about the great people and service they experience at Mike's. We feel that this begins in our hiring and is enhanced by great training and incentives. We are notoriously picky when it comes to hiring. In fact, for every 25 people we consider for our team, we hire just one. Our team members participate in hours of "on-site" and classroom training that helps them develop the skills, knowledge, and attitude that inspire great service to our customers. Lastly, all of our team members have the opportunity to earn recognition and extra pay in our various incentive programs. We offer a monthly team bonus, cash incentives and rewards for great customer service, as well as recognition banquets, which highlight and reward the "best of the best" each year.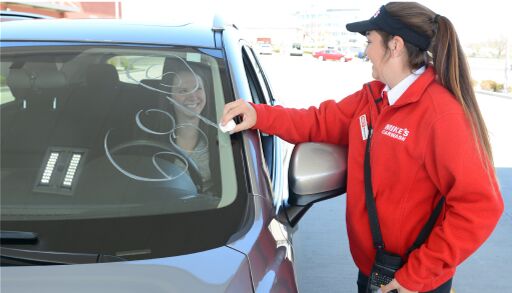 WHO DO I CONTACT ABOUT MY UNLIMITED WASH PLAN?

WHY CAN'T I SIGN UP FOR AN UNLIMITED WASH PLAN ONLINE?
For Mike's Unlimited Washes, a barcode decal must be adhered to your windshield and activated by a Mike's team member to set up the account in our system. The convenient process takes just minutes and can be done at any Mike's location!

HOW CAN I CANCEL MY UNLIMITED PLAN ONLINE?

WHY DON'T YOU CLEAN THE INSIDE?
When we started our company in 1948, we were a "full service" carwash. We cleaned the inside as well as the outside. Through the years, we saw greater demand for a fast, high quality carwash. These days, most of us put a premium on our time, so we focus on giving our customers the highest quality carwash, and greatest service available, in the shortest amount of time possible.

WHY WON'T YOUR EMPLOYEES ACCEPT TIPS?
We feel strongly that anything we do for you at Mike's is included in the price you pay. While we appreciate the gesture, please don't be offended if we decline your offer. Our team members are recognized and rewarded when you send an email, complete a comment card about them, or take our online survey (details are listed on your car wash receipt). Our team members also recognize, thanks to their various incentive programs, that anything they can do to keep you coming back rewards them in the long run.

WHAT'S WITH ALL OF THE STUFFED ANIMALS?
Years ago, our founders were looking for a way to ease the anxiety many children experience when going through an automatic carwash. The stuffed animals were a way to distract the children and help ease their fears. Today, they are a staple of the Mike's experience.

ARE YOU OPEN DURING THE EXTREME COLD IN WINTER?
Yes. We rarely close. In fact, winter is our busiest time of the year. We heat our water and use warm air in our dryers, so the temperature inside our wash is usually in the 80-degree range. Outside, we have floor heat in most of our customer areas. This special tubing under the concrete helps melt snow and ice.

IS IT SAFE TO WASH MY VEHICLE WHEN IT'S COLD OUTSIDE?
As we all know, water freezes at 32 degrees. Anytime the temperature falls below this you run the risk of things freezing. But, there are a few simple things you can do to help prevent freezing when it's cold. First, spray lock deicer in your locks after you exit the wash. Second, put your key in every lock and turn it back and forth a number of times. This helps to displace any water that might be present. Third, take the time to dry off your door jambs.

HOW DO YOU GET THE VEHICLE SO DRY IF NO ONE IS DRYING THE VEHICLE AS IT EXITS?
The dryer system we use is proprietary, and made exclusively for Mike's. We have 16 of these specially designed dryers at every location! Also, we heat much of the air coming from our dryers, which helps to literally evaporate the water from the vehicle. Even our water is treated so that it will evaporate or roll off the vehicle more easily.

DO I GET A QUALITY WASH WHEN YOU'RE REALLY BUSY?
The technology we use allows us to give you the same quality of carwash, regardless of how busy we are.

DO YOU SELL FRANCHISES? ARE YOU A 'PUBLICLY HELD' COMPANY?
The short answer to both is no. We are a family owned company, based in Cincinnati, Ohio. We feel strongly that remaining a family owned business allows us to maintain the service and quality for which we've become famous. We have no plans to franchise or go public.

HOW MUCH WATER DO YOU USE? IS IT ENVIRONMENTALLY FRIENDLY TO GO TO MIKE'S?
Compared to the average amount of fresh water a person might use when washing his or her vehicle in the drive way with a hose, we use about 70% less on average (140 gallons in the driveway* vs 41 gallons on average at Mike's). Mike's locations have varying levels of water reclamation systems which allow us to filter, clean and re-use some of the water used in our wash process.

Used water at all locations runs directly to a unique collection system that filters the water and removes harmful sediments and oil before it reaches local sewers.

Providing a clean, dry and shiny car for all of our customers while also trying to do our part to conserve natural resources, such as water, is extremely important to us.

*Based on statistics from the International Carwash Association.

HOW OFTEN CAN I WIN YOUR SOCIAL MEDIA CONTESTS?
One of the ways Mike's likes to engage with our loyal customers is to frequently run, easy-to-win, fun contests across all of our social platforms. Of course, as with any contest, there are a few rules you need to know about:
For all contests, we select and post the winners within 24 hours of launching the contest on our sites unless otherwise noted.
You may enter as often as you like.
Mike's allows ONE winner PER SOCIAL MEDIA PLATFORM per YEAR. In other words, you have three chances to be a winner, one each on Facebook, Instagram and Twitter.
Our contests are NOT OPEN to Mike's Team Members.
Good Luck!

DO YOU OFFER A POLICE DISCOUNT?
Mike's has long been honored to support the men and women of our police departments in all the communities we call home.

Our extensive opening procedures allow us to wash two marked police vehicles for free at the start of each business day (daily 6:45-7:00am).

We also offer the Basic Wash for $7 and the Ultimate Wash for $15 on all marked police vehicles throughout the day.